Neymar: Brazil ready to 'fulfil dream'
theguardian
Neymar: Brazil ready to fulfil World Cup dream of all Brazilians
This is our World Cup says Luiz Felipe Scolari on eve of game
Coach says 2002 and 2014 squads collectively the same


There are times to keep your counsel and talk in measured tones. This was not one of them. On the eve of Brazils opening match of its own Copa Das Copas Luiz Felipe Scolari was instead unambiguous. For all Brazilians, I want to say our time has arrived, Brazils manager said, addressing journalists in the half-finished depths of the São Paulo Arena. We want to go together. This is our World Cup. Scolaris bullishness was echoed by Neymar, sat beside his manager with the air of a presidential running mate rather than a 22-year-old star striker playing at his first World Cup.

As Mr Scolari has said, the time has arrived, that all Brazilians and I think the whole world was waiting for. And we the players hope that the last day goes by very quickly. I am anxious, of course. But also Im extremely happy of being where I am today. So I really hope I can help my team in the best possible way to fulfil the dream of us players, Brazilians, to win the World Cup.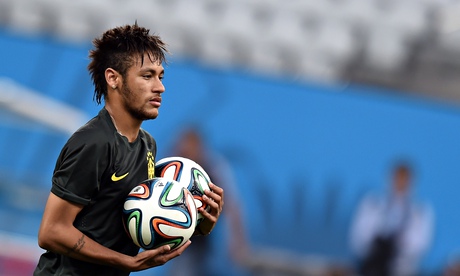 If Brazil are confident on the eve of their own tournament, this is with good reason. All the elite footballing nations of the last century (plus England) have won a home World Cup. This, the thinking goes, is Brazils turn. Plus, they are in prime form. The transformation wrought by Scolari after taking over from Mano Menezes at the end of 2012 has been widely noted, a complete re-gearing of squad and tactics garlanded by the Confederations Cup victory last summer and a current run of 15 wins in 16 matches.

At the end of which, as Brazil holds its breath before Thursday night, there was something agreeably bullish about Scolari and Neymar appearing together to front up the last knockings of this fraught and occasionally exhilarating seven-year process. Neymar, who walked in grinning like a schoolboy at Christmas, is a figure of particular interest right now, a young man of sublime gifts caught in a moment of rare grand-scale sporting tension.

There will be other World Cups, but never another like this, or another in which he is presented to the world so un-scarred and full of promise. I dont want to be the best player in the World Cup, he said. I dont want to be the [most prolific] striker, I want to win the World Cup. What I want is to win the World Cup with my team.

There were some chortles between Scolari and Neymar. The player brushed off a question about sleepless nights Ill sleep well tonight while Scolari produced a dad-ish joke If you ask at home, I sleep very well. I dont know if I do other things very well, but I sleep very well. But there is also a protectiveness towards his star player.

Asked which players he models himself on Neymar brought up Ronaldo, Romario and Ronaldinho. They are the players, the star players that when we talk about the World Cup I always think of yes, I do inspire myself on these players.

At which point Scolari reached across and cuffed the back of his No10s neck, turning a rather ambitious comparison to three revered former winners into a joke about haircuts.

I would say this squad and the 2002 squad are collectively the same, Scolari said, asked to compare then and now .They didnt play the way they wanted but they played to help the Brazilian squad in 2002 and we achieved what we wanted, to win. This 2014 squad is a squad that in specific situations some players do some things on the pitch that are different to what they do on the whole team. One of them is beside me. He doesnt specialise in marking but sometimes he does try to give his contribution to the whole team.

These have been difficult times personally for Scolari and there had been some talk he might leave the squad to tend to his family after the death of a nephew in a car crash in Rio Grande do Sul. Yes, we have gone through difficult times, he said. But life goes on. We do what we have to do and we go on. Each one has a path to follow. I find my strength from working with the players. These players dedicate themselves every day. They work among themselves. Even when we are not among them. They are always trying to improve. All this makes us, even when were feeling sad, to forget the sadness and feel the beauty of what is happening around you.

Scolari is known for carrying around his own little portable shrine of porcelain saints: take Brazil to victory here and they will be churning out china Big Phils.

If there is a concern for Brazil it is perhaps in the recent indifferent form of their most creative players. Neymar has scored five goals in 21 matches this year, while Oscar did not so much finish the season with a bang at Chelsea as drift to a halt. This, though, is something different and Brazil seem not just settled but genuinely confident on the eve of their own big kick-off.