Zabaleta: Argentina won't buckle like Brazil
theguardian
World Cup final: Argentina wont buckle like Brazil, says Pablo Zabaleta
Full-back says side is too strong to suffer same fate as hosts
Confidence untouched as team prepares to face Germany
Argentina will learn the lessons of Brazils World Cup humiliation and maintain the steely focus that has taken them to the brink of a historic victory in their neighbours backyard, according to Pablo Zabaleta.

As Alejandro Sabellas agent revealed to an Argentinian radio station that he planned to step down after the World Cup final, Zabaleta vowed to ensure their coach went out on a high against Germany .

The Manchester City full-back echoed the surprise of the rest of the footballing world at Brazils strange capitulation in Belo Horizonte but said his robust and resolute Argentina side would not make the same mistake if they lost an early goal.

Even if you concede some goals before 15 minutes or 20 minutes you need to keep calm and keep playing in the same way as we have been doing for these six games, said Zabaleta, whose tears of relief and battered, bruised face after their semi-final victory over Holland seemed to sum up their scrappy, resolute run to the final.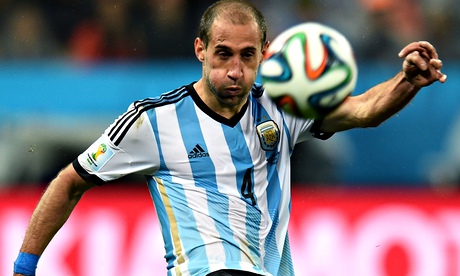 A football game is just about 90 minutes. If you concede some goals and you try to score as soon as possible, you concede space at the back and you are finished. It was a lesson for us, the Brazil game.

As tens of thousands of Argentinians were expected to flood into Rio, many setting up camp in the citys iconic Sambadrome, the Manchester City full-back said that Sabellas side would take inspiration from the massive patriotic support.

You can see how the Argentina fans are excited, singing for 90 minutes. Its special for us to play in this country, said Zabaleta of the hordes of rowdy supporters that have followed them around Brazil.

Most of the neutrals in the Maracanã on Sunday will be backing Germany but Zabaleta said they had also drawn inspiration in adversity.

Especially because Brazilian fans have been against Argentina for this World Cup. Sometimes, if you have all the people against you, you feel even stronger. I think we showed that and we feel very proud, he said.

Describing how they had been very compact, very tight and successful in closing down the space to deny Arjen Robben and Robin van Persie, Zabaleta gave an insight into how they would approach Germanys rampant, fluid attack. He inevitably pinpointed Lionel Messi as the key player if they are to overcome a German side who thrashed the hosts 7-1 in a result labelled almost a national tragedy by Rios mayor, Eduardo Paes, on Friday.

He is our main player, he is the captain of this team, he is the leader of this group of players, he said. We can imagine how special it would be for Messi to lift the cup. We need to keep our feet on the ground at the moment. But if Argentina need the Messi who dragged his side through the group stages rather than the anonymous figure who strolled through their victory on penalties over Holland, then Zabaleta also pinpointed Javier Mascherano as a key inspiration.

Playing as a holding midfielder, the Barcelona player was his sides heartbeat against Belgium and Holland, majestic in his timing and positioning as he helped stiffen a hitherto shaky Argentinian rearguard.

You always need a player with his commitment, his leadership. Hes always thinking about the group, said Zabaleta. If he sees someone who is tired he is there to help you. I have no words to describe how good Mascherano has been for this team in this World Cup.

Before the Belgium quarter-final Mascherano delivered a rousing dressing-room speech to the players and against Holland his pivotal last-ditch tackle on Robben in the final minutes of normal time was key.

Zabaleta described Mascherano as the teams leader on the field. He is not just a player, he is like a manager on the field. He is always talking about other players, positions, tactics, he said. I am very proud for him. Hes been in another two World Cups and been out in the quarter-finals but now he has a chance to win it.

Sabellas agent, Eugenio López, told FM Delta in Argentina that the former Sheffield United player would step down after the tournament in Brazil. The 59-year-old, who has faced down intense media pressure to lead his side to the final, has coached Argentina since 2011. To go at the top is always positive. I believe he gave everything to the national team and that now is the time to give way to another person, said López.

Zabaleta said they would give everything to deliver a victory that those pouring over the border in their thousands and millions more at home would never forget. You can imagine people from Argentina selling their cars to be here, even without tickets. This is something that happens in Argentina. We love football, he said.

We know how special it would be for this country to win another World Cup. But obviously we appreciate how Argentinian fans are doing everything to support the team. As a player I feel very proud, everyone feels very proud. Hopefully we can give them another trophy.