Löw told Götze to better Messi
theguardian
The Germany manager, Joachim Löw, had urged his substitute Mario Götze to show the world you are better than Messi at half-time in extra time, with the Bayern Munich forward going on to conjure the goal which won the nation a fourth World Cup.

Löws side became the first from Europe to claim the trophy on Latin American soil courtesy of Götzes fine 113th-minute finish from André Schürrles delivery. The 22-year-old had lost his place in the starting lineup earlier in the tournament and had replaced the World Cups record goalscorer, Miroslav Klose, after 88 minutes at the Maracanã with the game deadlocked and the diminutive forward going on to claim the contests only goal.

I said to Götze: OK, show the world you are better than Messi and can decide the World Cup, said Löw. I told him that. I always had a good feeling about Götze. Argentina were becoming more and more tired, but we had players who could make a difference. Götze is a miracle boy, a boy wonder. He can play any position up front. I know hes always able to decide a match, and it was a great winner he scored. But in extra time we had the energy to move forward. We didnt want to go to penalties. We wanted the game decided before then, and we put them under more pressure.

Löw had seen his preparations severely disrupted having lost Sami Khedira to a calf injury in the warmup and his replacement, Christoph Kramer, to a head injury before the half-hour mark. Yet his squad boasted the depth of quality to prevail against stubborn opponents, with this trophy the culmination of over a decade of work at academy level back home.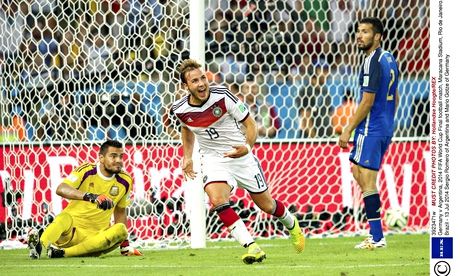 Weve been together as a squad now for 55 days, but we started this project 10 years ago, beginning with Jürgen Klinsmann, said the manager. Wed not made this ultimate step before, but champions do what they will do. This team has developed a spirit which is unbelievable. Were proud to be the first European team to win a title in Latin America, in Rio, in Brazil, in a footballing country par excellence and this makes us proud.

Its an unbelievable feeling, said Götze, whose chances had been so limited in recent weeks. You score the goal and you dont really know whats happening. It hasnt been a simple tournament, or year, for me and I owe a lot to my family and my girlfriend who always believed in me. But a dream became reality here. The German chancellor, Angela Merkel, joined in the celebrations in the dressing room with her victorious compatriots, many of whom had departed the turf shedding tears of joy. Whether we have the best individual players or whatever does not matter: you have to have the best team, said the captain, Philipp Lahm. We stepped up time and again in the tournament, did not let ourselves get distracted by any disruption, but just went on our way. And at the end you stand there as world champions, an unbelievable feeling.

Argentinas manager, Alejandro Sabella, who will decide upon his own future over the next few days, described his players as warriors and praised them for summoning one of their best performances in Brazil. His team only trailed opponents for seven minutes the last period of extra time in the final over the entire tournament. We gave everything we could out there, said the midfielder, Javier Mascherano, who ended the evening in tears. We had the better chances but we didnt take them, and we only had to last another five minutes or so to reach penalties. The pain is immense. We wanted to win this for the people of Argentina, for those who came here to support us. But we have represented our country the best we could. We have to lift our heads despite the pain. We just didnt have that little bit of luck that you need in a final.

The teams captain, Lionel Messi, endured another evening on the fringes of the contest to suggest his fathers comments last week, that his son was exhausted, reflected the 27-year-olds state of fitness. He departed as the Fifa study committees golden ball winner, as the best player of the tournament, though having failed to hoist his name up alongside the likes of Diego Maradona, Zinedine Zidane and Pelé among the greats on this stage. But he is in that pantheon, said Sabella. He was there before and has been for quite some time. He deserves the Golden Ball because he played an extraordinary World Cup. He was a fundamental factor in the team making it to the final, along with everything done by his other team-mates. So he deserves it, quite sincerely, yes.